Wine Route of Costa Azul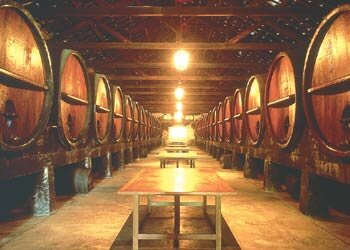 The wine route of Costa Azul (area known as "blue coast") is all about the contact of wine with the sea. The route was mapped out in 1999/2000 and includes Azeitão, Palmela, Quinta do Anjo and Pegões. These lands are fertile and include Moscatel and Periquita varieties. Periquita is the Setúbal designation for the recognised Castelão Francês variety.
Moscatel de Setúbal, a fortified golden-coloured wine, with a light aroma and delicate flavour, is produced between Setúbal and Palmela, whose vineyards were praised in the time of King D. Dinis. Wines that were produced in the southern region of the Tejo Valley, in the district of Setúbal, and are not DOC classified, are called Regional Wines of Terras do Sado.
Wine tasting
The location of choice for wine tasting is Pousada de Palmela, a classy hotel built inside Palmela Castle. Another location is Casa Mãe, at Largo de S. João em Palmela, an old wine cellar transformed by Rota do Vinho into a wine tasting room, where visitors are also received and welcomed.
Designation of Controlled Origin - DCO

(Denominações de Origem Controlada - DOC)
Setúbal
Palmela
Grape Varieties
Recommended white grape varieties include Fernão Pires, Arinto, Moscatel de Setúbal, Moscatel de Bago Miúdo, Moscatel Roxo, Síria, Rabo de Ovelha, Tamarez and Vital.
Some varieties used for Moscatel are: Moscatel de Setúbal, Moscatel de Jesus, Moscatel de Málaga, Moscatel Romano, Moscatel roxo da madeira, Moscatel roxo de Constança and Moscatel do Douro.
The recommended red varieties include Castelão Francês (Periquita), Alfrocheiro-Preto, Bastardo, Cabernet-Sauvignon and Trincadeira-Preta.
Regional Wine
Terras do Sado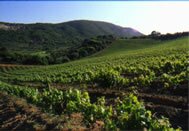 Events

Festas das Vindimas em Palmela
This festival takes place in September and includes processions allusive to wine harvesting and a procession of camponeses, or rural workers, who transport baskets filled with fresh grapes, ready to be pressed. The grape pressing takes place in a tank in Igreja de S. Pedro and is followed by a blessing of the mash ceremony. The festival is very interesting on an ethnographical and tourist level and attracts many visitors.
Festival Queijo, Pão e Vinho
Sheep shearing, Azeitão cheese making, the most recently produced wine, and bread baked in a wooden stove are all part of the local traditions and cultural heritage that are preserved in this festival, which takes place at Quinta do Anjo, in April.
Mostra de Vinhos da Marateca e Poceirão
This wine festival, held in Fernado Pó in May, is held to show visitors the quality of the region's wines. Some 30 producers take part.

Quintas e Palácios de Azeitão
These palaces, manorhouses and estates in Azeitão are all magnificent, as are those in the villages of Piedade, São Pedro, Portela, Aldeia de Irmãos, Oleiros, Brejos, Castanhos, Pinheiros and Vendas de Azeitão. Estates of particular interest include Palácio dos Duques de Aveiro, Quinta da Bacalhoa, Quinta das Baldrucas, Quinta da Bassaqueira, Quinta da Palhavã, Quinta da Má Partilha, Quinta das Torres (Renaissance villa from 1521), Quinta do Peru e da Conceição and Quinta de El Carmen.
Castelo de Palmela
This castle is of fascinating military construction and is located at a strategic place that offers magnificent views of the whole area. The castle is currently partly occupied by a magnificent Pousada, whose wine cellars are recognised for its quality and variety of wines. Chatting with the wine waiter is a good starting point to discover the region's wine.
Parque Natural da Arrábida
The Parque Natural da Arrábida is 35 kilometres long and covers almost 11 thousand hectares, divided amongst the districts of Setúbal, Palmela, and Sesimbra; it stretches from the foothills of Palmela to Cabo Espichel, which features Santuário de Nossa Senhora do Cabo. It has three botanical and natural parks: Mata Coberta, Reserva do Solitário, Reserva dos Vidais. Then there is the wildlife park on the Ilhéu da Pedra da Anixa, situated in the small cove of Portinho da Arrábida beach.
Moinhos de maré do Estuário do Tejo
These tidal mills were built for grinding cereal before the invention of steam machines and use the rising of the tides in the estuary to make the heavy millstones turn. Some are in ruins, others not. They are to be found mostly in the districts of Seixal and Barreiro and also in Montijo and Alcochete.
Igreja do antigo Mosteiro de Jesus
This is the most important monument of the city of Setúbal. It was finished in 1500, and later subjected to renovations and extensions. The inside features walls decorated with 18 multicoloured tile panels from the 16th and 17th centuries, which depict scenes from the life of the Virgin Mary, the main altar's gilded woodcarvings, the crypt, the chapterhouse, the sacristy's Manueline arch, a relic gold pyx and some interesting paintings at the chancel.


..top..