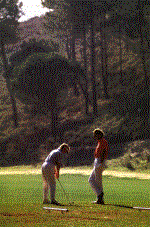 Twenty minutes from the centre of Lisbon in a rich pine forest verging on the white sands of the Atlantic coast is AROEIRA, the Lisbon Country Club's new 900-acre golf estate which, together with its fine stables, luxurious private beach installations and tennis courts, is surely the most attractive development of its kind in Portugal.
AROEIRA's 18-hole, 6,750-yard course has been acclaimed by international golf writers as among the best in Europe - a test of skill and source of enjoyment that draws out every club in the bag to meet the challenge of long and lush fairways set within undulating forests of umbrella pines, big greens moulded around extensive lakes.
In addition, AROEIRA boasts what must be one of the best practice grounds in Portugal, of the same turf as the course - the hybrid "Tifton 419" brought from Georgia - which provides among the best fairways in golf.
AROEIRA, also enjoys a fine restaurant that is a source of attraction to golfers and non-golfers alike.
AROEIRA is Portugal's best-kept secret. It is a paradise within easy reach of the centre of the capital, and tourists who present the form attached, duly completed, are welcomed as visitors. Aroeira 2